$1.5M gift creates new Biomedical Research Lab Endowment: Puts campaign over $100M mark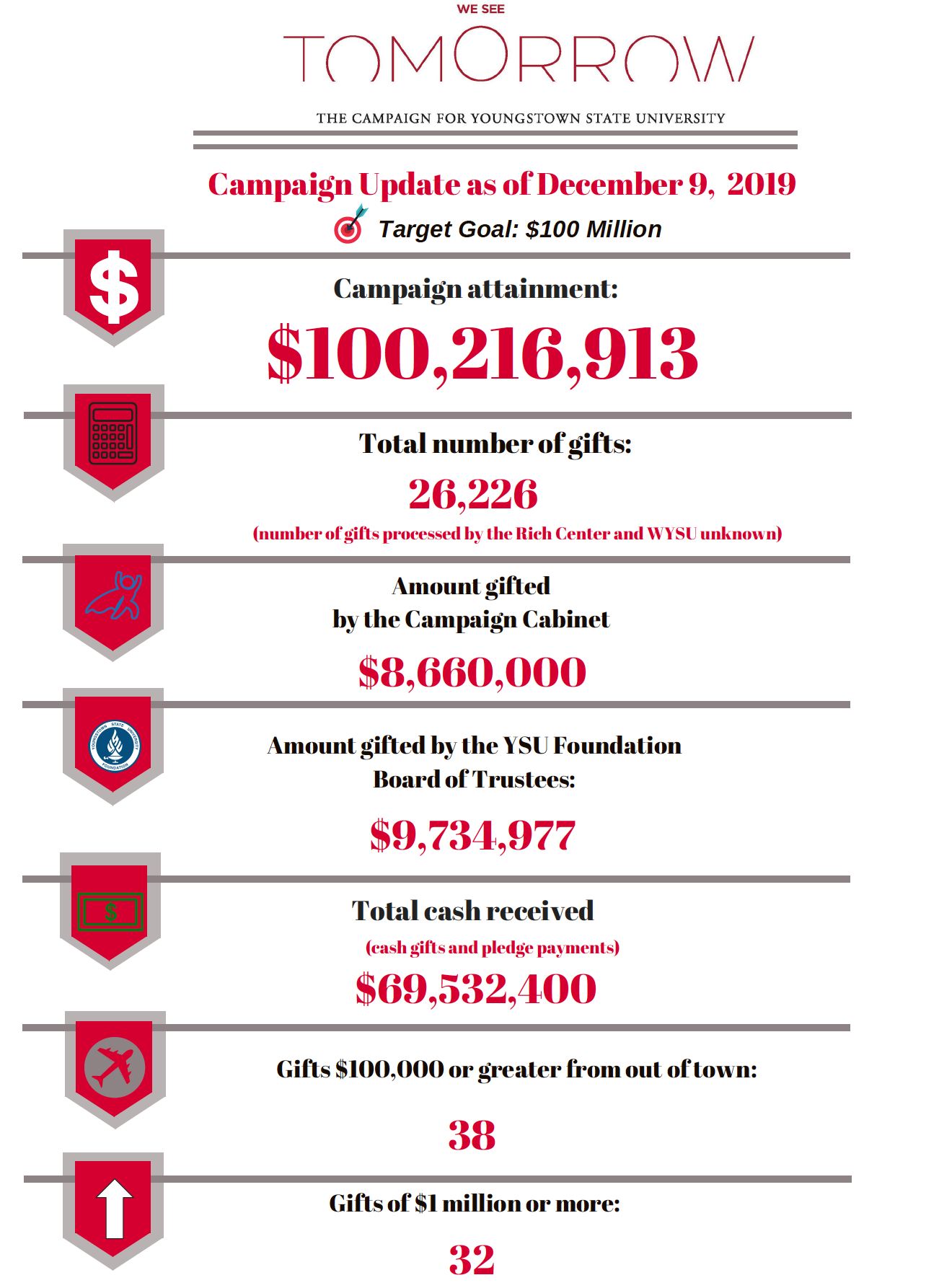 Eleanor Watanakunakorn has donated $1.5 million to Youngstown State University's "We See Tomorrow" campaign to endow a biomedical research lab in the College of Science, Technology, Engineering and Mathematics.
The endowment will support students performing undergraduate research in the biological/biomedical field for the YSU Summer Undergraduate Research Program.  The aim of the program is to engage undergraduate students in research during the summer for a period of eight weeks. The endowment targets students that are enrolled in the BachMed or pre-med programs at YSU. All participating students are required to give an oral or poster presentation during the program's annual symposium.
"All of us at YSU thank Mrs. Watanakunakorn for her generosity and continued support of the university and our students," President Jim Tressel said.
Mrs. Watanakunakorn is a longstanding philanthropic leader in the Mahoning Valley and beyond. In 2014, she was recognized as "Outstanding Philanthropist" by the Association of Fundraising Professionals Mahoning-Shenango Chapter National Philanthropy Day Awards. That same year, she received an honorary degree from Northeast Ohio Medical University in Rootstown, the institution where her late husband, Dr. Chatrchai Watanakunakorn, taught. Dr. Watanakunakorn was world-renowned and was the first infectious disease specialist in Youngstown, working for nearly 22 years at St. Elizabeth Health Center (now Mercy Health).
Mrs. Watanakunakorn honored her husband's legacy in 2008 by establishing the Dr. Chatrchai and Eleanor Watanakunakorn Scholarship at the YSU Foundation. The one-year renewable scholarship is awarded to a full-time, second-year student in the YSU BaccMed program who is accepted in the NEOMED program.
With Mrs. Watanakunakorn's gift, the YSU "We See Tomorrow" fund-raising campaign exceeds $100 million. The campaign, the largest in the university's history, is a seven-year effort designed to elevate the academic stature of YSU, increase access for students through additional scholarship aid, and enhance the living and learning environment of campus to embrace the technological advancements in the 21st century. Reaching the initially established goal of $100 million, a year and a half ahead of schedule, is a testimony to the commitment and loyalty to YSU held by alumni and friends. A press conference has been scheduled for Jan. 29, 2020, to outline the campaign's achievements and identify the areas of focus for the campaign's remaining 18 months.
"It is with gratitude we acknowledge and thank those generous donors who helped us reach this impressive goal ahead of schedule," said Jocelyne Linsalata, campaign chair. "We have developing conversations with numerous potential additional donors to the campaign, and we look to embrace those individuals and the opportunity they present by the conclusion of the campaign in June 2021."
"We are humbled by the response of our alumni and friends to this campaign," YSU Tressel said. "Together, we are making a new YSU for generations to come."