The United States Distance Education Association defines distance education as the process that culminates in the acquisition of knowledge and skills through mediated information and instruction, encompassing all technologies and other forms of learning at a distance. The planned learning process normally occurs in a different place from teaching and as a result requires special techniques of course design, special instructional techniques, special methods of communication by electronic and other technology, as well as special organizational and administrative arrangements. 
There are various ways in which learning at a distance can be achieved. YSU uses the following categories to more clearly define these learning environments: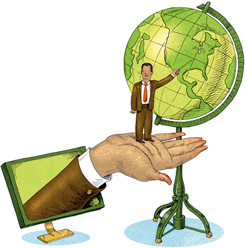 WEB-BASED (WB) – 100% online course where students interact asynchronously with the instructor and other students. Students do not meet in a traditional classroom setting during the semester. Although there is no set time for instruction, there are likely deadlines placed on assignments. Off-campus proctored exams and/or presentations may be required at authorized proctoring sites or at designated locations in compliance with the Higher Education Opportunity Act (HEOA) provision regarding student authentication.
HYBRID (HB) - Courses where students meet in a traditional classroom setting during the semester and where between 33% and 74% of the instruction and interaction occurs via electronic communication, correspondence, or equivalent mechanisms, with the faculty and students physically separated from each other. 
VIDEO CONFERENCING (VC) (also known as Interactive Distance Learning) – Courses where students meet synchronously on site and at a remote site on a specific day and time. Students can see and interact with the instructor and fellow students using interactive video conferencing systems.