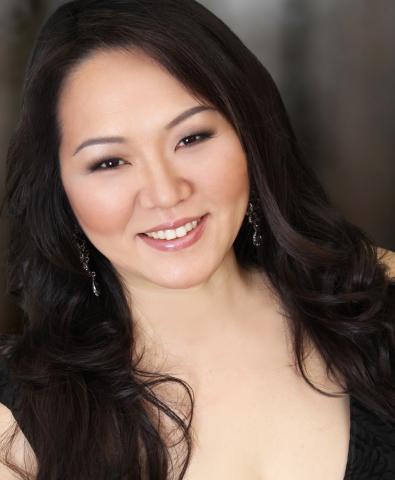 Praised as a singer of "exquisite clarity" and "virtuosity," lyric soprano Misook Yun has performed in Italy, Austria, South Korea, and the United States of America.
An accomplished operatic performer, Yun has appeared in the roles of Mimi & Musetta (La Bohème), Cio Cio San (Madama Butterfly), Tosca (Tosca), Nedda (I Pagliacci), Santuzza (Cavalleria Rusticana), Micaela (Carmen), Adina (L'Elisir d'Amore), High Priestess (Aida), Violetta (La Traviata), Suzel (L'Amico Fritz), and Genevieve (Suor Angelica). Her engagements were with Eugene Opera, Opera Fort Collins, Opera Westeren Reserven, Bayshore Lyric Opera, Opera Circle, Valley Lyric Opera, and Warren Philharmonic Orchestra.
As a concert soloist, Yun appeared with Louisiana Philharmonic Orchestra, Tuscon Symphony Orchestra, Youngstown Symphony Orchestra, Warren Philharmonic Orchestra, Cleveland Philharmonic Orchestra, Dana Symphony Orchestra, Ashtabula Area Orchestra, and Umpqua Symphony Orchestra. Her orchestral performances include Mahler Symphony No. 2, Beethoven 9 Symphony, Vivaldi's Gloria, J. S. Bach's Maginigicat, Chants d'Auvergne, Elijah, A Midsummer Night's Dream, Faure's Requiem, Carmiina Burana, Bachianas Brasileiras No. 5, Schubert Mass in G, Mozart's Requiem, and Handel's Messiah.
She has given solo, gala, and chamber recitals in South Korea, Italy, Austria, Hungary, Oregon, Virginia, Mississippi, Arkansas, Pennsylvania and Ohio. As a chamber musician, she won the Pittsburgh Concert Society audition in 2012.
Yun was audience choice winner at the Classical Signer Convention in May 2010 in New York City, and was selected by Classical Singer as a "Certified Classical Singer," having advanced to the final round in the professional category at the 2007 Classical Singer Convention competition. She was featured in the September 2010 ad January 2008 edition of the Classical Singer magazine. Her other competition winnings include first prize of the Metropolitan Opera Competition in the Oregon District, the concerto competition at the University of Oregon, and first prize in the Paul & Lillian Petri Scholarship Competition which enable her to go study abroad in Austria and Italy.
She has studied and coached with Mark Beudert, Tae-Hee Cho, Eun-Kyung Kim, Gregory Mason, Lorenzo Malfatti, Robert McIver, James Miller, John Simmons and Milagro Vargas, as well as participated in masterclasses with Martina Arroyo, Eva Marton, Marcia Baldwin, Vera Scammon, and Norman Shetler.
Accomplished pedagogue, in the summer of 2004, she was one of the twelve National Association of Teachers of Singing interns chosen through out the North America. Recently she participated OperaWorks's Artist Teacher Training program. Ms. Yun has been invited to be part of summer faculty at Summer Music Study in Hungary program in Szeged.
Her students have been winners of many competitions, and accepted to Cleveland Institute of Music, University of Illinois (Champaign -Urbana), University of Akron, University of Oregon, Temple University, Indiana University, and Colorado State University for their graduate studies.
Yun is a professor at the Dana School of Music, Youngstown State University.