Disinfecting wipes/sprays will be provided in classrooms.
Classes for Fall semester began Aug. 17.
All university-affiliated student travel has been suspended for the Fall semester.
Board of Trustees updated on opening of Fall semester. Read summary.
Email to students, re. campus safety protocols/videos
President Tressel shares return plan with campus. Read More.
Fall 2020 Classes: Classes are being offered in a variety of modalities ranging from traditional face-to-face classes on campus to 100 percent online classes off campus. Any changes in the delivery method of a class will be noted on the student's schedule. Visit the Registration site in Banner and click on "Active Registration" to find the modality of your courses. Regularly check active registration as changes are possible. Direct questions or concerns about class schedules to the Penguin Service Center at 330-941-6000.
Travel and Return to Campus: Students, employees and others returning to Ohio after travel to states reporting positive COVID-19 test rates of 15 percent or higher must stay home and self-quarantine for 14 days. The list of hot spot states is available on the Ohio Department of Health website and is updated every Wednesday. It is the responsibility of the person traveling to determine upon their return if their destination is on the hot spot list.
Contact tracing: The YSU EOHS has established contact tracing and support protocols in the event that a member of the campus community has tested positive. Students should notify the Office of Student Outreach + Support online. Employees should inform their supervisor.
Face coverings: Students, faculty and staff must wear face coverings at all times in campus buildings, except when working alone within an enclosed area. The Youngstown Mayor and Board of Health issued an order for the use of masks by everyone in public, in the city of Youngstown until further notice. Read Notice.
Social distancing: Minimum six-foot physical distancing must be preserved to the greatest extent feasible.
Campus facilities: All buildings have been inspected and approved by the YSU Office of Environmental and Occupational Health and Safety as per federal and state guidelines and safety and health guidelines established by the university.
Health assessments: Students, faculty, staff or anyone else coming to campus should perform daily health assessments.
Hand cleaning: 10 mobile hand-washing stations have been installed across campus at:

Andrew's Rec and Wellness Center,
Kilcawley Center - Cove,
Kilcawley Center - 1st floor by elevator,
WATTS,
Cushwa Hall - Atrium,
Moser Hall - North lobby,
Ward Beecher - Southwest entrance,
Stavich Bridge - West end,
Williamson Hall - Lobby near coffee shop, and
Stambaugh Stadium.

Disinfecting wipes/sprays will be provided in classrooms.
Residence Halls: All residence halls will open at reduced capacity, modifying several double occupancy rooms to single rooms for students seeking additional distancing measures.
Bookstore: Barnes & Noble YSU Bookstore encourages students to purchase books online for the Fall semester.
Students and employees:  Closely monitor your YSU email for updates.
For more information: Call the Penguin Service Center, 8 a.m. to 5 p.m., Mondays through Fridays. 330-941-6000 or email onestop@ysu.edu.
Return to Campus for Classes
With the coronavirus rapidly spreading across the United States, colleges and universities continue to assess the safest, most effective approaches for the new academic year. This document, developed after much research and discussion across all segments of the YSU community, and in consultation with state and federal health officials and guidelines, outlines protocols, principles and procedures for the safe delivery of quality, faculty-engaged instruction for Fall Semester 2020.
Note: Many uncertainties remain surrounding the pandemic. Our knowledge, understanding and response evolves on a daily basis. As such, the steps outlined in this document will be regularly reassessed, updated and communicated as needed.
---
Return to Classes Guidelines
Frequently Asked Questions
Click on the category to get a list of questions; click on the question for the answer. For questions not included, please contact the Penguin Service Center hotline, 8 a.m. to 5 p.m., Mondays through Fridays. 330.941.6000 or email onestop@ysu.edu.
Campus Communications
---
Video Messages from President Jim Tressel
Past Messages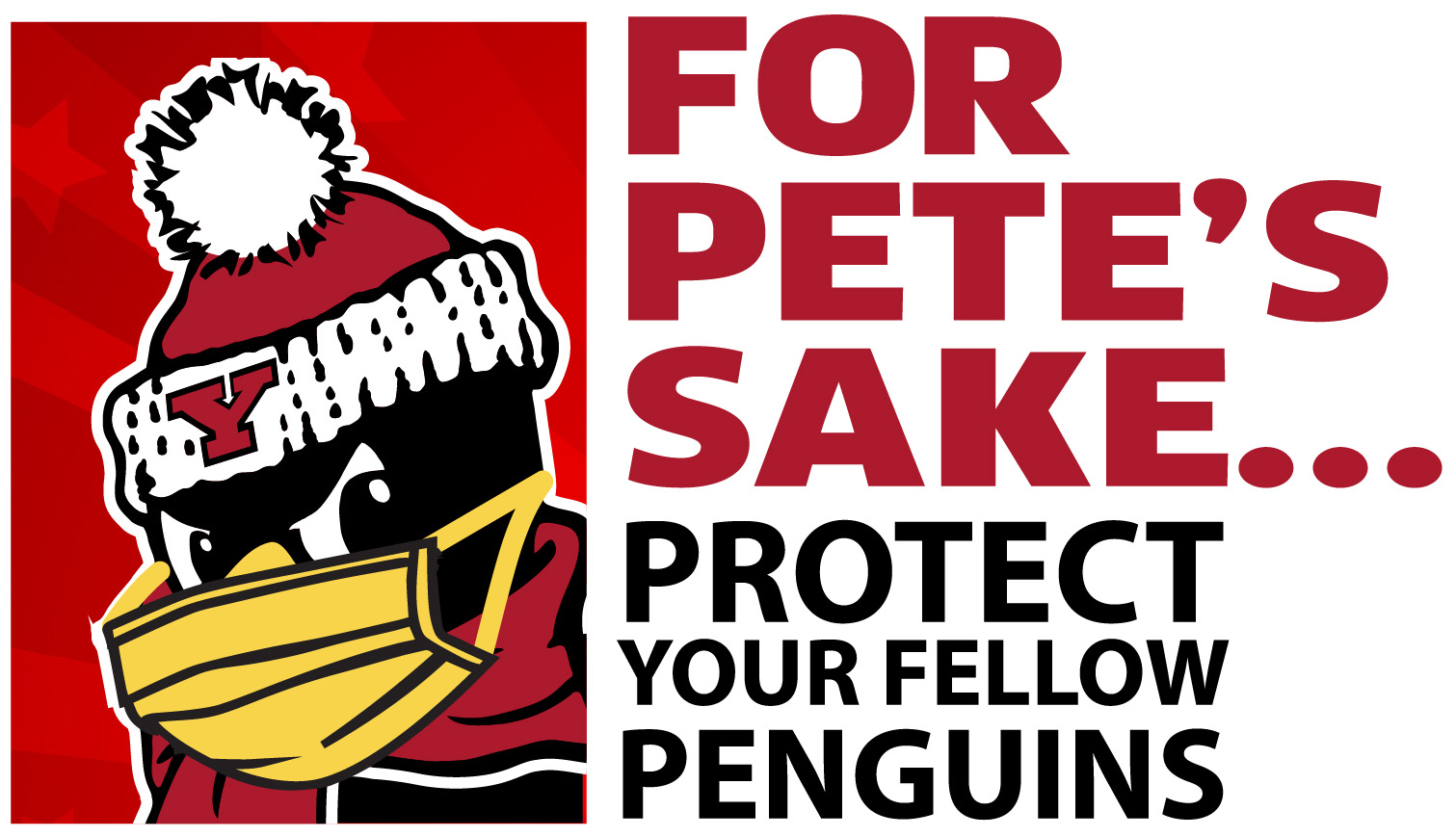 YSU's Take Charge of Our Future Focus Groups continue to work for a safe return to our campuses this fall. We plan to resume in-person classes and residential living in August. We are working to ensure a safe experience for the entire YSU community.
"For Pete's Sake..." was established to help guide the return to campus activity. Everyone at YSU is encouraged to adhere to these guides to help ensure the safest environment possible.
For Pete's Sake Videos
---
There is currently no vaccine to prevent coronavirus disease 2019 (COVID-19). The best way to prevent illness is to avoid being exposed to this virus.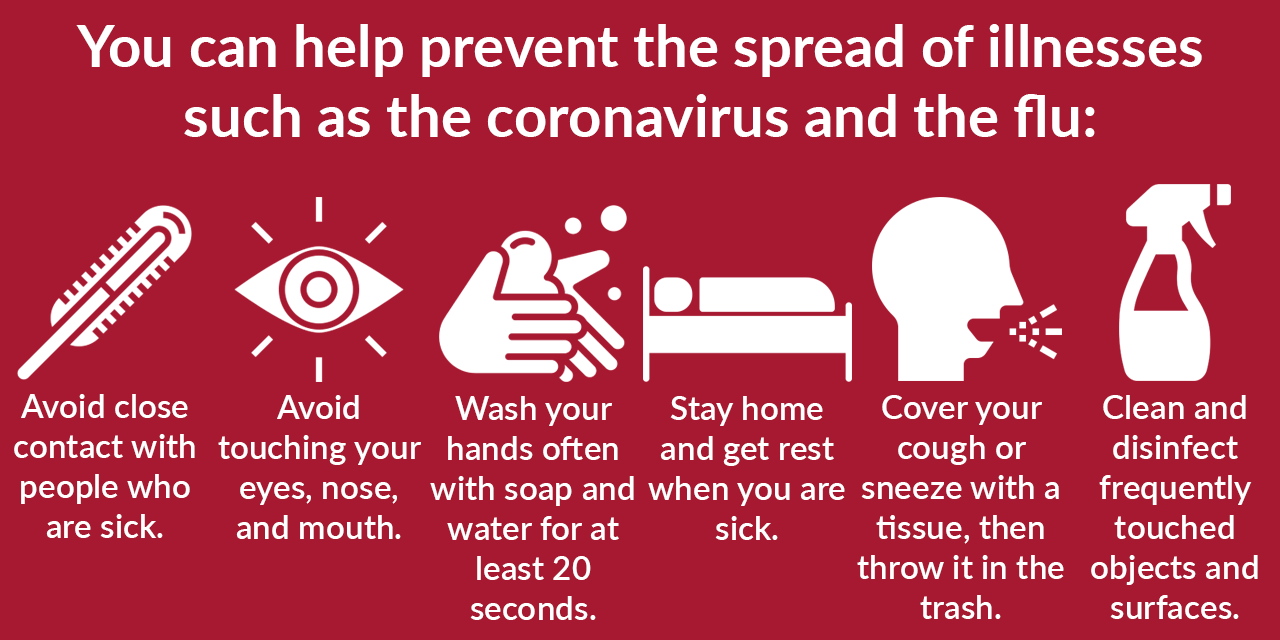 The CDC recommends everyday preventive actions to help prevent the spread of any respiratory diseases, including:
Wash your hands often.
Avoid close contact, especially with people who are sick.
Cover your mouth and nose with a cloth face cover when around others.
Cover coughs and sneezes
Stay home when you are sick.
Clean and disinfect frequently touched objects and surfaces using a regular household cleaning spray or wipe.
Monitor Your Health.
These are everyday habits that can help prevent the spread of several viruses. The CDC does offer specific guidance for travelers.