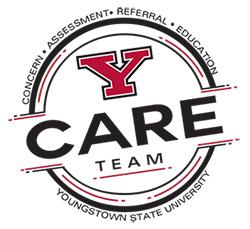 The CARE (Concern – Assessment – Referral – Education) Team, formerly known as the Behavioral Intervention Team (BIT), was created to address behavioral concerns that may negatively affect the campus learning environment or potentially harm the health, welfare and/or safety of members of the University community or the individual(s) exhibiting such behaviors.
 
The CARE Team is composed of Youngstown State University personnel committed to a proactive, collaborative and planned approach to the management of threatening, disruptive, disturbing or otherwise problematic behaviors at YSU. The CARE Team accepts referrals from students, their families, faculty, staff, and the surrounding community with the goal of providing outreach, guidance, and assistance to students dealing with a variety of issues.
All members of the YSU community have the responsibility to report any situation that could possibly result in harm to anyone at YSU. It is important, however, to understand that the role of the CARE Team should not be confused with crisis management. In a "crisis" situation, a person poses an active or immediate risk of violence to self or others. In these cases, the YSU Police Department should be contacted IMMEDIATELY at 330-941-3527 (or dial 911 from a campus phone).

When should I refer someone to the CARE Team?
It is better to have more information than not enough. The CARE Team receives various types of information from across campus from students, families, roommates, etc. Faculty and staff are especially encouraged to report any problematic, disruptive, or anti-social behavior; these behaviors might not trigger serious concerns in isolation, but may raise concerns if combined with reports from other sources. It cannot be stressed enough to follow your instincts. If something inside of you is saying that there is a potential risk, please refer that person to the CARE Team so that we can help.
Reasons to be concerned:
Trouble eating and/or sleeping
Disruptive behavior
Undue aggressiveness
Exaggerated emotional response that is obviously inappropriate to the situation
Depressed or lethargic mood
Hyperactivity or very rapid speech
Marked change in personal hygiene
Excessive confusion
Dramatic weight loss or gain
Dependency (individual hangs around or makes excessive appointments to see you)
Behavior indicating loss of contact with reality
Feelings of helplessness or hopelessness
References to suicide
References to homicide or assault
Isolation from friends, family, or classmates
Marked change in performance or behavior
Excessive absence or tardiness
Giving away prized possessions
Preparing for death by making a will and final arrangements
 
I am concerned about an individual (or group). How do I make a referral?
There are several ways to make a referral to the team.
You may click the link icon located at the top of the page to open a brief reporting form. Please complete this as thoroughly as possible to help the team determine urgency and next steps.
You may directly contact the Chair or any member of the CARE Team to make a referral. A list of members and their contact information can be found in the member's link of this page. Please be aware that members may not monitor their email or phone 24/7.
You may contact the Office of Student Outreach and Support 330-941-4721 or Student Counseling Services 330-941-3737 (Monday – Friday, 8am - 5pm, when YSU is open).
You may contact the Director of Student Outreach and Support/CARE Team Chair after hours through email nkentstrollo@ysu.edu or by cell (330) 717-2613.
IMPORTANT: Contact YSU PD (330) 941-3527 or 911 (from a campus phone) immediately for ANY emergency!

Can I make an anonymous referral to the CARE Team?
Youngstown State University will, to the extent possible, respect the wishes of reporters concerning their anonymity, but there may be situations where the identity of the reporter will need to be disclosed or will become apparent because of the actions taken to address the situation. Please note that the CARE Team may need to ask questions of the referral source in order gather additional information to best address the concerns shared.
Youngstown State University will, to the extent permitted by law, maintain the confidentiality of the conversation except as needed to make referrals or follow up on the subject discussed. In some instances, however, the university may be required to release information in response to a court order, subpoena, or open records request.

What happens after I make a referral? How does the process work?
IDENTIFICATION OF THE PERSON(S) OF CONCERN:

The CARE Team accepts referrals from students, their families, faculty, staff and community members.

ASSESSMENT OF THE SITUATION:

The Director of Student Outreach and Support/CARE Team Chair (or designee) will begin to gather information relating to the incident in order to assess and address the concerns presented.
The CARE Team will then meet to determine the appropriate response. By putting the pieces together from across campus, and utilizing diverse multidisciplinary perspectives from Mental Health, Law Enforcement, Student Affairs, and Academics, we will analyze the situation and assess for risk in order to determine the next step(s).

REFERRAL AS APPROPRIATE:

Referrals and recommendations by the CARE Team may occur through informal or formal channels, depending on the individual characteristics of the case and the severity of the behavior of concern. Examples of actions that may be taken include monitoring, referral to an outside resource, referral to the office of Student Conduct or office of Human Resources (for employees), recommending a sanction such as "Interim Suspension" to the Vice President of Student Affairs, and rarely, involuntary hospitalization.Numerous factors affect which referrals and recommendations are made. Please know that great care is taken to ensure this is the most appropriate intervention for both the person of concern and our campus community.

EDUCATION AND FOLLOW UP:

The individual (or group – in some unique situations) will be provided education as appropriate and the CARE Team will continue to monitor the person(s) of concern in order to best ensure their success and safety.