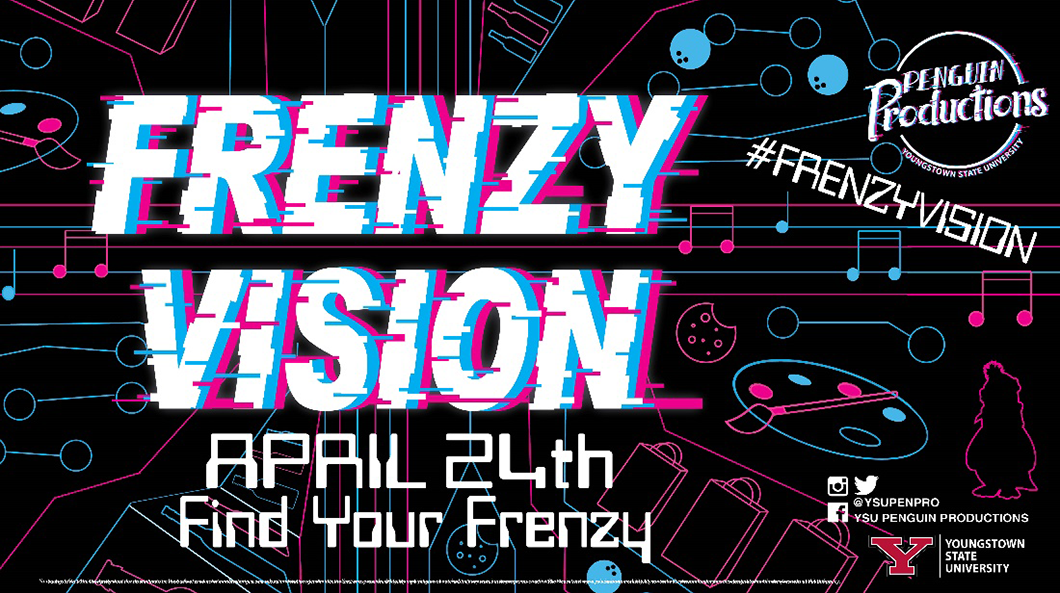 Youngstown State University Penguin Productions is proud to present FRENZY VISION, a one-hour long video special, at 7:00 PM on Saturday, April 24, 2021. Created in partnership with Forty Two Event Production and Jambar-TV, this production will feature new performances by FEDERAL FRENZY band favorites and segments highlighting a variety of FEDERAL FRENZY partners.
FRENZY VISION will premiere on the Penguin Productions Facebook Page, allowing viewers to experience the show from the comfort of their own home. The special will include new performances from RED WANTING BLUE, THE LABRA BROTHERS, FIFTH & AURORA, DELINQUENCY JONES, THE VINDYS, JD EICHER, SPIRIT OF THE BEAR, and JULIA COOPER. Between songs, we'll take a look at what local artists, vendors, and venues have been up to since our last FEDERAL FRENZY.
FRENZY VISION kicks off on April 19th on the Penguin Productions social media outlets: Facebook (YSU Penguin Productions), Twitter and Instagram (@ysupenpro). Throughout the week, the team will post exclusive content promoting the artists, venues, restaurants, and YSU student organizations that complete our FRENZY VISION.
Week of Events
March 29 – April 9, 2021 – Frenzy 8 Pack – RIVALRY BREWS is offering a sampler pack offers eight different craft beers from four of our very own Youngstown breweries. You can order yours now at Rivalry Brews Penguin Frenzy  8-pack webpage.
April 21, 2021 – Edible Cookie Dough Class – ONE HOT COOKIE is hosting a virtual class on how to make edible cookie dough. Kits will be provided to those students who register at the SignUp.com webpage.
April 23, 2021 – Brew with the Brewers – BIRDFISH, PENGUIN CITY, NOBLE CREATURE, and MODERN METHODS are all teaming up to host a 'Brew School' to review the craft beers in the 'Frenzy 8 Pack'. Watch them on YSU Penguin Production's Facebook page April 23 at 7:00 pm.
Partners
---