Cover Story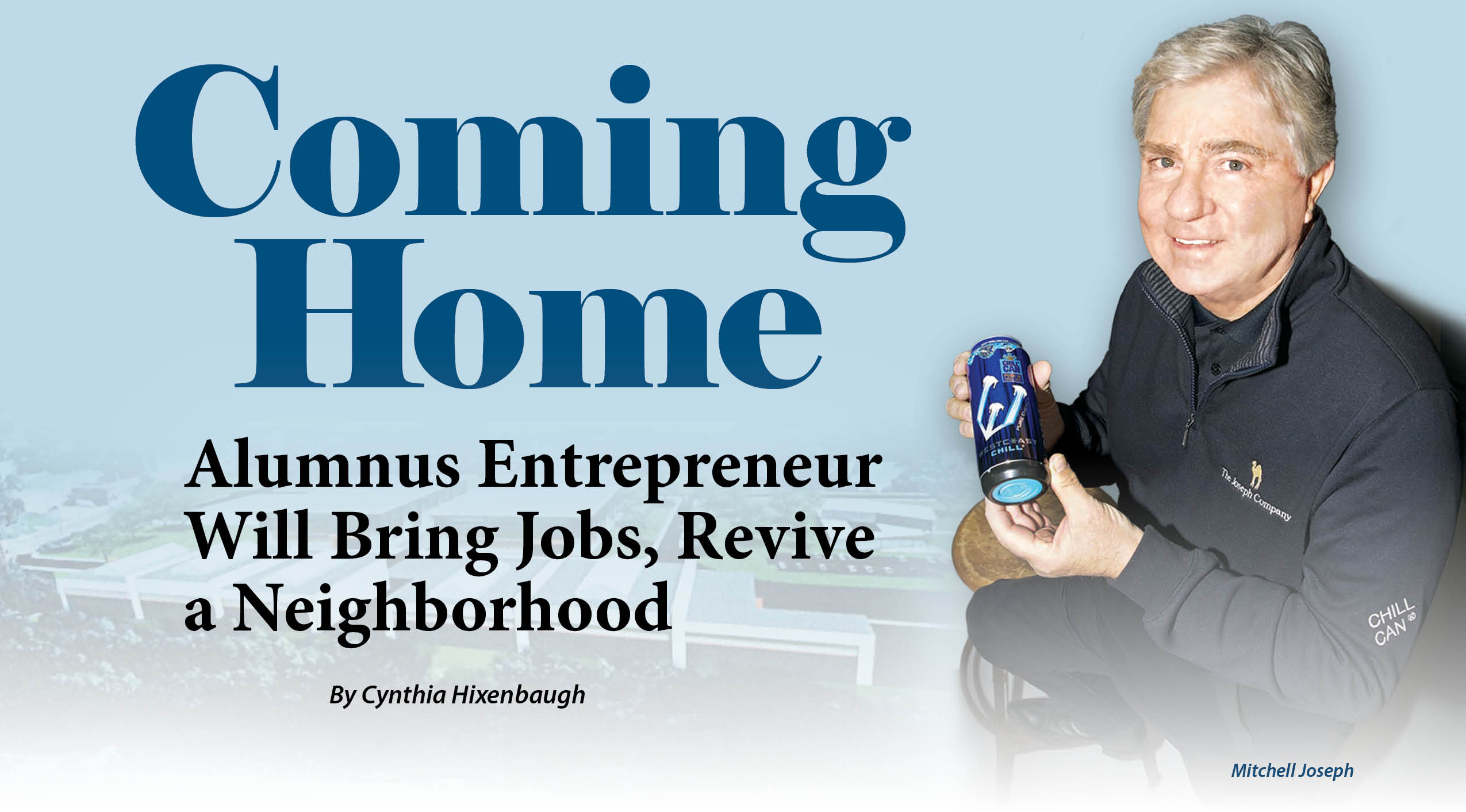 Imagine a world where ice buckets and picnic coolers are obsolete.
Picture a soldier on a desert assignment, able to turn water ice-cold in less than a minute. Or an astronaut, chilling beverages in space without a power source.
YSU alumnus Mitchell Joseph has the technology to make it all possible ­– the patented "Chill-Can," the world's first self-chilling beverage container.
Now the California business owner and entrepreneur is bringing his company's invention home, back to the East Side Youngstown neighborhood where he was born, to build a $20 million Chill-Can Beverage and Technology Center.
"This is going to revolutionize the beverage industry," said Joseph, chairman and CEO of Joseph Company International. "There will be no other facility like it in the world."
The plant is set for completion by fall 2018 on the very spot where Joseph's great-grandfather operated the family-owned Star Bottling Co. from 1921 to 1970. Youngstown Mayor John McNally joined Joseph, his wife Sue, and YSU President Jim Tressel in November for a groundbreaking on the Lane Avenue site.
One Billion Cans a Year
Eventually, Joseph said, the Youngstown plant will have the capacity to manufacture and fill 1 billion Chill-Cans a year. "Coca Cola is going to come here, Pepsi is going to come here. Heineken, Budweiser, Miller and Coors – this is a Youngstown product, and they all want in."
He plans to begin hiring security people for the plant this spring and expects to create 235 jobs within three years, with more to come. "Eventually, when we're producing and filling 1 billion cans a year, operating 24/7, we'll have 1,000 people on that property," he said.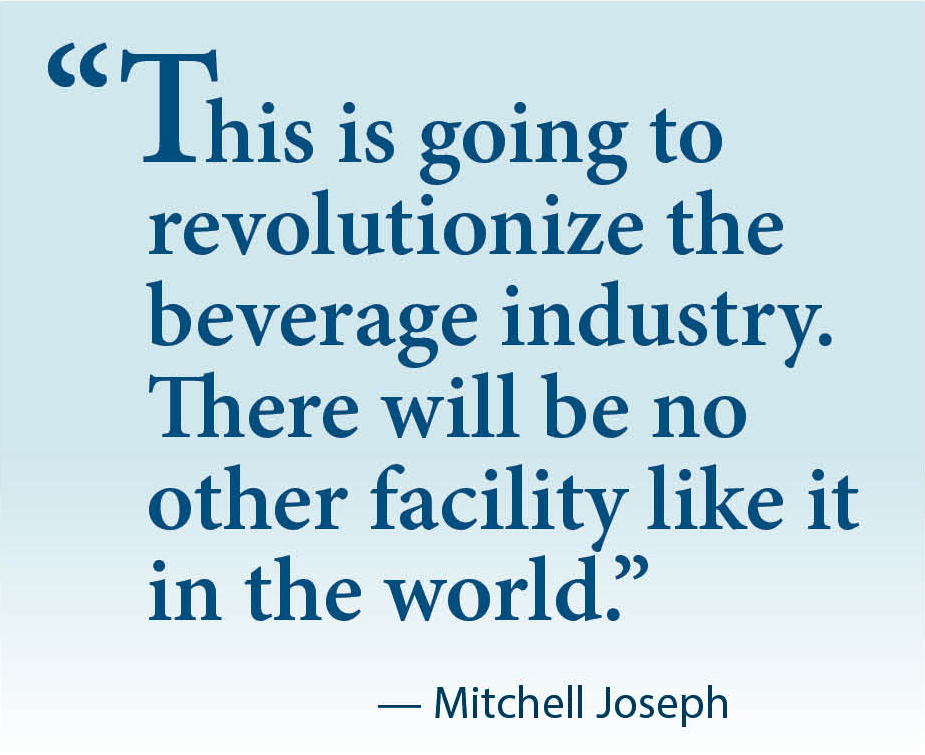 Construction of the first two production buildings on the 21-acre site could be finished as early as this fall; two more production buildings are set for completion by the summer of 2018, with a research and development facility to follow.
Originally, Joseph planned to build the Chill-Can plant in Columbus, but a pivotal conversation with a friend – YSU President Tressel – helped change his mind.
They had formed a friendship years before, when Tressel was coaching the Ohio State Buckeyes, and Joseph was among the special guests Tressel invited to YSU for his installation as president in 2014.
During that visit, Joseph talked about the Chill-Can, the pride he feels as the fourth generation in his family to work in the beverage industry –with a son, Matteo, now joining him in the business – and his desire to return to Ohio.
"Hearing that story, it just seemed right to bring it here, back to his roots, and that's what I told him," Tressel said. "You have to come back to where the story began."
Back to His Roots
The old, lower East Side neighborhood was hardly recognizable when Joseph returned the weekend of Tressel's installation. All but a few of the homes were boarded and abandoned and there was nothing left of his great-grandfather's bottling plant, but Joseph mapped out the site and soon after began quietly buying property.
Mayor McNally said East Side residents, mom-and-pop business owners and city officials alike are thrilled about the Chill-Can project. "We've been trying to bring a new industrial park to the East Side for a number of years, and we're especially excited about the jobs – from basic labor and office staff to engineers and technical people – and the potential for tax income for the city."
Youngstown and Mahoning County have worked together to move the project along, McNally said, including a 10-year, 75 percent property tax abatement, a zone change from residential to green industrial and help with purchasing and demolition of properties. The city will also reimburse Joseph Company International up to $1.5 million for water and sewer improvements. "We're so glad that Mitchell is bringing the project to Youngstown," the mayor said, "and we're doing everything we can to help make it happen."
Growing up in Columbus, where his parents moved from Youngstown when he was 6 years old, Joseph had always planned a career in the family business. He was awarded a baseball scholarship to Ohio State but transferred to YSU his sophomore year – the Star Bottling plant was still operating in Youngstown, and his grandfather wanted him to learn the business.
He earned his YSU bachelor's degree in 1969, started law school at OSU and was drafted into the Army just a few weeks later. That's when he encountered what he calls a "hiccup." His family sold the Youngstown bottling plant to Coca Cola while he was in the service, so his plans to join the family business were dashed.
Overcoming a 'Hiccup'
Joseph decided to continue in the beverage industry, starting off by importing a German beer to the United States. In 1982, he launched Joseph Company International in Irvine, Calif., and found a lucrative niche by creating a private label to bottle distilled spirits for Disney – it was the world's first private label. The company now has operations in California, Florida and London and employs about 340.
In the late 1980s, Joseph was asked to partner with California Polytechnic State University to create a self-chilling beverage can – something the beverage industry had been trying to do for decades. "Over 10,000 patents had been filed, but none of them worked," Joseph explained.
When the university's plan fell apart, Joseph took on the project himself. He went to his father, then retired from the beverage business, and asked to be introduced to top-level industry executives. His father agreed to help him to make the necessary contacts, but he was not enthusiastic. "He asked me why I thought I could do what Coke and Pepsi and Budweiser and all the others couldn't do," he recalled. "He called it a black hole."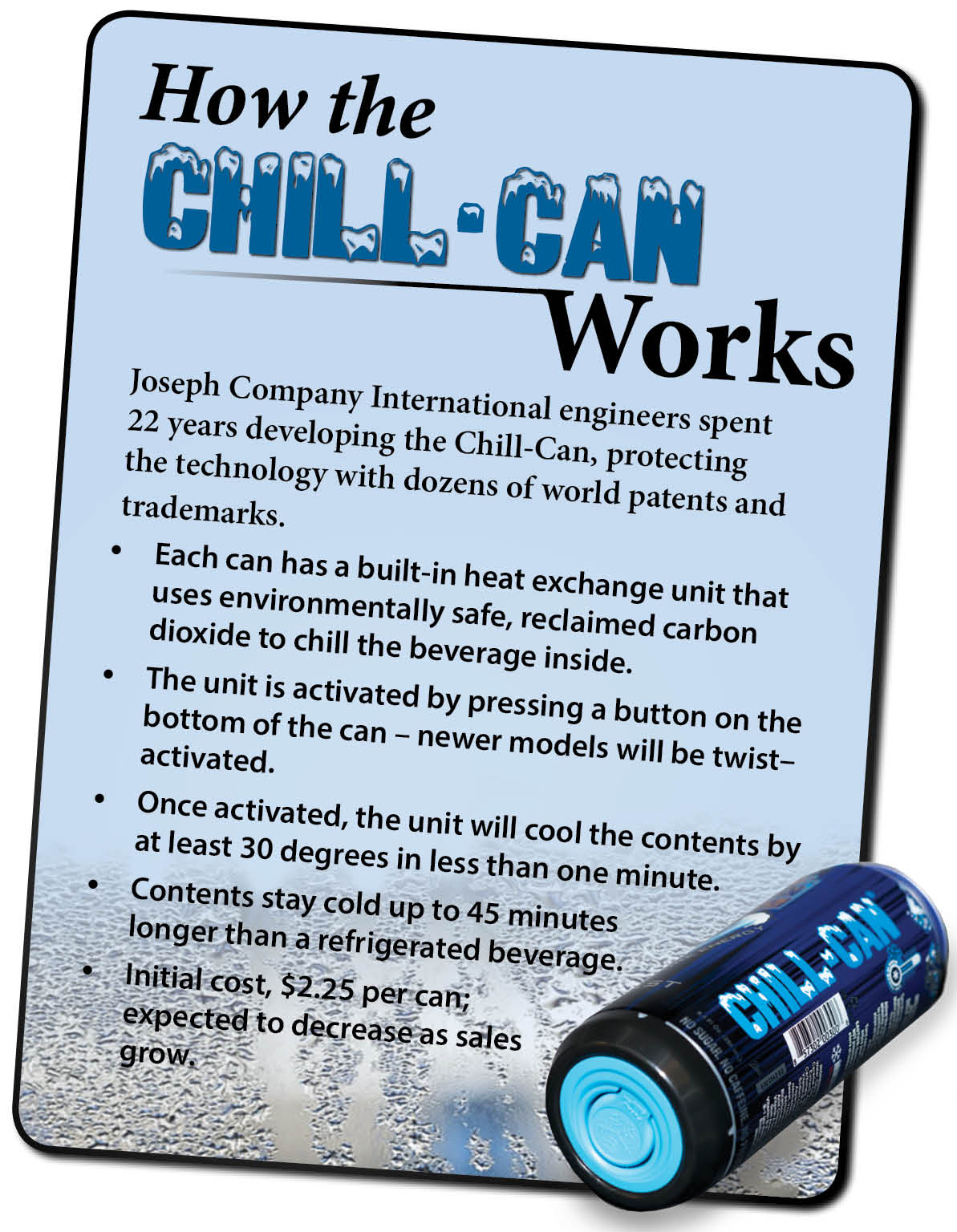 Joseph put his engineers to work on the self-chilling can project while he focused on marketing strategy and protecting their work, investing tens of millions of dollars to secure a total of 31 U.S. patents, more than 400 global patents and numerous trademarks and copyrights.
In 1998, success was in sight. Joseph's company had perfected the self-chilling can, Pepsi and Heineken had each paid millions of dollars as the first companies licensed to sell it, and Pepsi was ready for a 6 million "blue can" launch in Puerto Rico.
Another hiccup. An environmental group tipped off the Financial Times of London about the launch, and the fact that the cans were cooled by hydro fluorocarbons, a Freon replacement compound. Hydro fluorocarbons were legal at the time and not known to be harmful, but Pepsi didn't want controversy or boycotts. The story became international news, the launch was postponed, and Joseph's engineers went back to the drawing board for a redesign process that lasted nine years.
Testing the Waters
The new and improved Chill-Can that Joseph's team created uses a cooling mechanism powered by carbon dioxide that is reclaimed from the environment and environmentally safe. In fact, Joseph was awarded the U.S. EPA Stratospheric Ozone Protection Award in 2012 for his company's Chill-Can redesign.
The redesigned Chill-Can made its commercial debut in 2014 with an energy drink Joseph Company International created for that purpose. The beverage, called West Coast Chill, contains vitamins, minerals and herbs, no sugar or caffeine, and is the only energy drink approved for sale in schools. "We launched in Southern California and they couldn't keep them on the shelf," he said. "We knew we had a winner."
Now Joseph is in meetings with Pepsi, Coke, Heineken and all the other major beer companies – he included a helicopter pad in the plans for the Youngstown Chill-Can facility because he knows beverage executives from around the country will be visiting there often.
And he's discovering that there are many more uses for the patented self-chilling technology. He's been meeting with cosmetic companies, such as Estée Lauder, and with sports medicine suppliers who want to use the instant cooling technology for injury braces. "All of it, everything, will come out of Youngstown. It will be made here," he said.
The Chill-Can site is close to YSU, about a mile and a half from campus, and Joseph said he looks forward to strengthening his connections with the university by creating engineering, marketing and other student internship opportunities, starting as early as the summer of 2018.
Joseph's success as an entrepreneur has brought the YSU alumnus national recognition, opportunities to speak and to serve. He has been featured on the covers of seven industry magazines and journals worldwide, was featured in a Harvard University entrepreneurship case study and then invited to address MBA students at Harvard.
NASA contacted him to ask for help creating a device that could cool desserts and beverages in space without electricity. He succeeded, using Chill-Can technology, and received an award and a personal meeting in Washington, D.C., with the late U.S. Sen. John Glenn.
The Army contacted the Joseph Company, as well, and asked if its engineers could to find a way to cool canteens in a desert environment. When their work was complete, his engineers tested 1,000 canteens in the 105 degree temperatures of Palm Springs, Calif. "We chilled water in those canteens from 105 degrees to 65 degrees in two minutes," he said. "They couldn't drink it any colder."
Joseph was awarded the Army's Rookie of the Year Award for the canteen cooling method, beating out night goggles and ballistic missiles for the honor. "As great as those technologies are, unless you give those guys cold water, they can't function," he said. "That's why I say, this is big. This is going to change things. If you have grandchildren, they're not going to grow up with ice."