STUDY ABROAD STUDENT HEALTH INSURANCE ENROLLMENT INSTRUCTIONS
1.Go to WWW.HTHSTUDENTS.COM. Type:DUH-7446in the group access code box and press SUBMIT.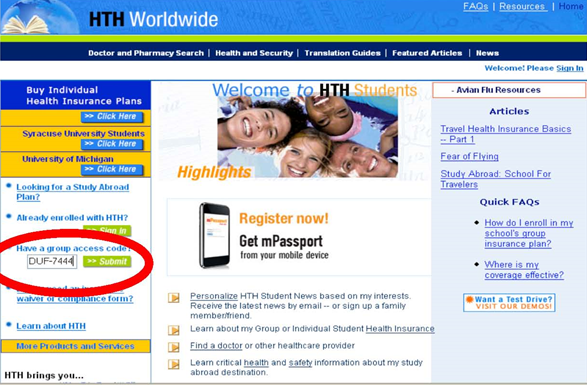 2.You will be asked to read the online agreement.  Click on I AGREE.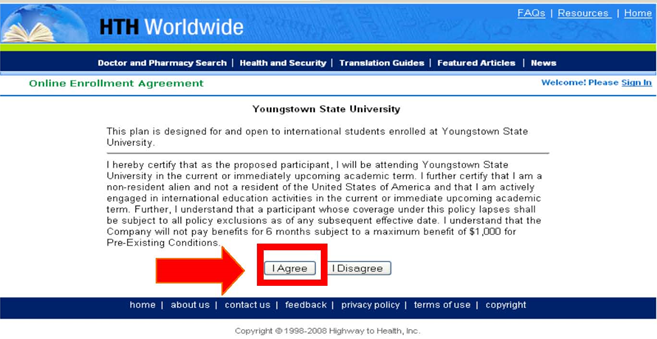 3. You have two options:  You can enroll online and pay immediately by credit card you can download an enrollment form and send it along with payment directly to the insurance company (see section 3.2).
3.1 Online Enrollment (Credit Card payment)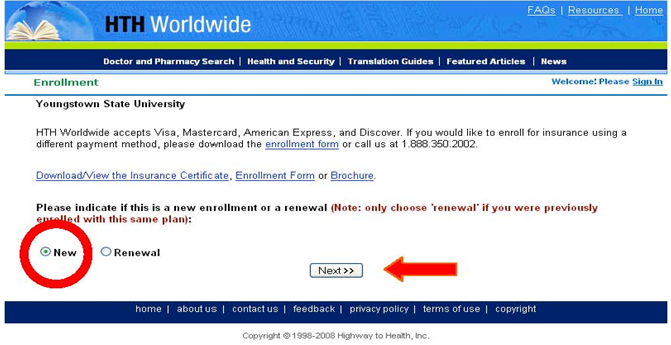 a. You will be directed to a form. Fill out the form as completely as you can.  Do not enter your social security number. When you get to this section
Valid From                  (mm/dd/yyyy) Valid Through                  (mm/dd/yyyy)
make sure that the 'Valid From' and 'Valid Through' dates are filled in.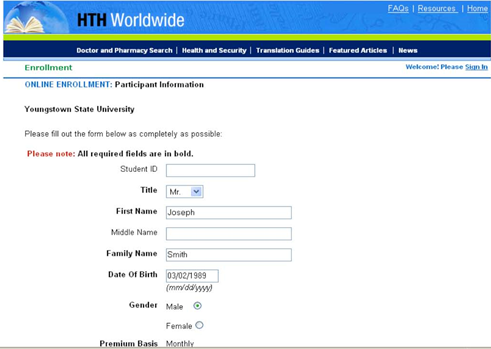 d. Enter your credit card information.  When you are confident that all the information is correct, press the "Purchase Plan" button at the bottom of the screen to purchase your plan.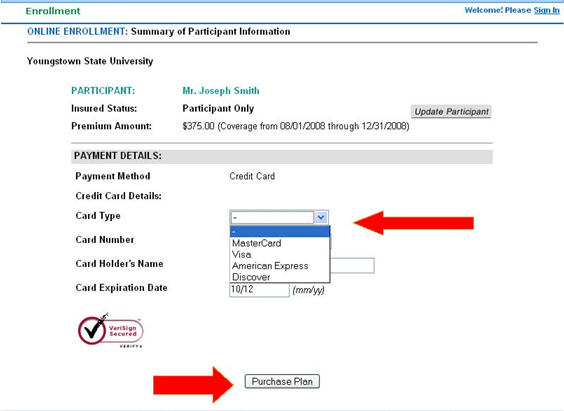 3.2  If you do not have a credit card or wish to pay with a check or money order, you will need to download the enrollment form by clicking on the Enrollment Form link and mail it with your check or money order to the insurance company.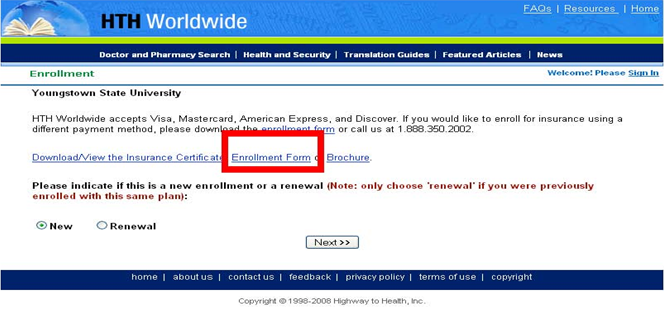 a. Fill out the form completely. Enter the correct dates in the section that begins "I want my coverage to begin on…" You'll be shown the amount you will be charged before you purchase the insurance. Please choose whole month increments. Check the dates, sometimes adjusting the dates will result in a lower premium. For example, departing January 2, 2009 and returning May 2, 2009. If you select, the valid from date of 01/02/2009 through 05/02/2009, you'll pay for four months. If you select a through date of 05/03/2009, you'll pay for five months.

b. Make check payable to: "HTH Worldwide Insurance Services" and mail with this completed enrollment form to: HTH Worldwide Insurance Services, One Radnor Corporate Center, Suite 100, Radnor, PA 19087
Don't worry if you make an error in enrollment. You can always contact the Center for International Studies and Programs (CISP) for assistance with the enrollment process
 
Desa Pavlichich,
Secretary Center for International Studies and Programs
Youngstown State University One University Plaza,
Jones 1005 Youngstown, OH 44555
Email: dpavlichich@ysu.edu
Phone:(330)941-2336
Fax:(330)941-2338
IPO Home Page