Global Day of Service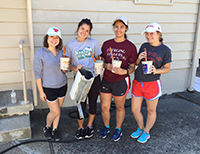 An Annual Honors College Event
The Youngstown State University Honors College is holding its annual Global Day of Service on the weekend of Aug. 26 and 27. All honors students are required to participate to donate their time to help organizations in the Mahoning Valley.
A few of the participating organizations this year include:
Habitat for Humanity
Youngstown Neighborhood Development Corporation
Angels for Animals
Dorothy Day House
Rescue Mission of the Mahoning Valley
Ursuline Sisters
Youngstown Inner City Gardens
Help Network
Oblate Sisters of the Sacred Heart of Jesus
Honors students must sign up for a location by Friday, Aug. 18 (first-come, first-served basis).
For more information, contact our event organizers at HonorsStudents@ysu.edu.