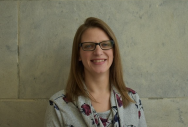 I completed my undergraduate degree at Youngstown State University then spent several years working in industry. I came back to YSU to complete my masters degree and now use my industry knowledge to help prepare graduates for their future careers.
Research Focus

I work with industry to find engineering solutions.

Expertise

I work with industry partners to solve their mechanical engineering problems. All projects are solved by a group of mechanical engineering graduates working with the support of academic advisors.