CREDIT TO KICK START YOUR YSU PROGRAM
At Youngstown State University, we also have alternative pathways for you to accelerate your time to degree completion.  It's called the Alternative Credit Project™ (ACP) through the American Council on Education (ACE).  The Alternative Credit Project provides you access to a pool of online courses at low cost that YSU will accept toward your degree. ACP is designed to make your four-year degree more attainable by lowering costs and increasing flexibility.  The Alternative Credit Project​™​​ encourages greater acceptance of students' alternative credit and create a more flexible pathway towards post-secondary education attainment for the more than 32 million non-traditional students who may have some college credit but no degree.
This project is made possible by the generous support of a $1.89 million grant from the Bill & Melinda Gates Foundation.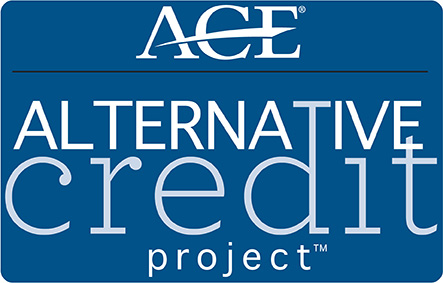 ---
About the Project
ACE has engaged over 50 colleges and universities with a strong commitment to access and attainment in an alternative credit consortium. Several of these institutions helped to identify high-demand lower division general education subject areas, agreed-upon quality course and provider criteria, and identified high-quality online education providers across nearly 30 subject areas.
Youngstown State University has been engaged in the Alternative Credit Project since Summer of 2015.
---
Please note that all students must earn a C or better in all courses completed through the Alternative Credit Project and must request an American Council on Education Transcript upon completion of the course.
Transcripts can be sent to:
Office of Admissions
Youngstown State University
One University Plaza
Youngstown, Ohio 44555
---
Prior to enrollment in an ACP course, students must complete a Transient Student Authorization form.  Current YSU students desiring to attend another institution as transient students must complete and submit the Transient Student Authorization form, available from the dean of the college in which they are enrolled. Instructions are on the form. To be certain the transient class is applicable to the degree, the TSA form must be completed prior to taking the course. If the form is completed after the course is taken, applicability cannot be guaranteed.
 
To receive credit for approved coursework, the student must have received a grade of "C" or better and must attend Youngstown State University the semester following the completion of the transient term. It is the student's responsibility to have an official transcript sent from the other institution to the YSU Office of Admissions.
In addition, students need to be aware of the residency requirements at YSU.  The last 20 semester hours leading to an associate degree and the last 30 semester hours leading to a baccalaureate degree must be completed at Youngstown State University. (In the pre-forestry, pre-law, and pre-medical curricula, however, which allow the student to earn final credit hours in absentia, the last 30 semester hours prior to the period of absence must be spent at Youngstown State University.) A minimum of 16 semester hours in the concentration area for the associate degree, and a minimum of 16 hours of credits in the major in the baccalaureate degree, must be earned in residence. A minimum of 21 semester hours of upper-division credit for the baccalaureate degree must be earned in residence. Exceptions must be approved by the Office of the Provost. Additional requirements may be specified by individual colleges.
---
YSU Accepted Courses
You can choose from a variety of courses at low cost through ACE-approved providers and apply your credits earned toward your YSU degree.
Available courses include: