Nurse Education MSN
Prepare for a career as a nurse educator in academic, health care and community settings through our Nurse Education master's program.
What You'll Study
You will be able to put a variety of theories from nursing and related fields into practice and diversify your career opportunities after you graduate. Your studies will prepare you to analyze social issues related to the health care delivery system and nursing education. The coursework will help enhance your skills and give you the ability needed to succeed in the nurse education field.
Program Outcomes
MSN Graduate Handbook*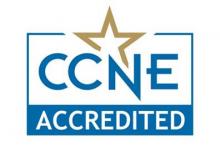 Degree
Nurse Education MSN

You will take 16 semester hours of core courses within the MSN program. Then you'll take six additional nursing courses and select two courses related to education technology to complete the Nurse Education option.
Internships and Jobs
OUR GRADUATES WORK FOR:
Mercy Health
Jefferson Regional Medical Center
Cleveland Clinic