Spotlight: Composition Coordinator Guy Shebat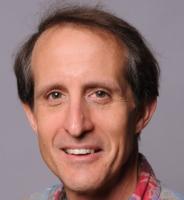 As Composition Programs go, YSU's is a fairly large one. In a typical semester 70-75 instructors teach upwards of 4000 students in about 170 sections of English 1539, English 1540, English 1550, and English 1551. As the Coordinator of this program, I can sometimes – amid the tasks involved in administering the program – lose sight of the program's focus and the program's purpose. I can forget that, when all is said and done, the program's focus is nothing more (nor nothing less) than reading and writing. And the program's purpose, simply enough, is to help students become stronger readers and more effective writers.
When a YSU student finishes the two-course General Education sequence of Writing 1 and Writing 2, that student will have written over 10,000 words of formal essays, plus another few thousand words of less formal texts – journal or blog entries, reading responses, peer reviews,  and the like. And for the many students who take the three-course sequence to complete their General Education writing requirement, you can add another 3000 words of formal writing and probably at least a thousand words of informal work. That's a lot of writing.
These same students, whether in the two or three-course sequence, will also do a lot of reading. Whether it's essays in a course text, articles emerging from personal research, or (yes) feedback and comments from an instructor, the student who comes through the YSU Composition Program will have read the equivalent of a few good-sized novels.
And we shouldn't forget (can't forget) the Program's instructors who, together with the students, give the program its focus and help the program to achieve its purpose. Like the students, the instructors also do a lot of reading and a good bit of writing. In a typical course, an instructor reads (and responds to) a lot of student writing -- well over 100,000 words of formal essay writing, plus probably close to another 100,000 words of less formal writing. That's a lot of reading. And the typical instructor will also do a lot of writing. There's the course syllabus, various instructional materials, a good number of carefully-thought-out assignments, and both formal and not-so-formal feedback in response to what their students write.
It's sad to think that all that work that students and instructors do as a part of this program just vanishes into some General Education requirement black hole. I believe that their work is important. It's work that, as I know having been a student myself, is often a product of a lot of investment, energy, thought, and sometimes even passion. And so, I see CROW as a small protest against this disappearance of student and instructor effort, energy, and investment amidst the stress and strain of any given semester of work and life.
This effort, energy, and investment deserves some recognition; It deserves some positive reinforcement, some celebration, a forum where it can be viewed and appreciated. With the inception of CROW that forum now exists.