WELCOME!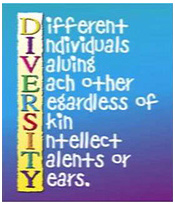 The mission of the Youngstown State University office of Student Inclusion and Enrichment is to serve as an advocate in assuring the successful enrollment, retention and graduation of African American, Latino, Native American, Gay, Lesbian, Transgender and any under-represented undergraduate students.  Student academic success is the primary goal that underscores the important role that the Office of Student Diversity and Programs plays in student development.  This goal is achieved by developing and implementing holistic retention programs, sharing information and ideas that assist individuals in embracing diversity and encouraging mutual respect through education, cultural and social programming.
The office of Student Inclusion and Enrichment serves as a University and community resource.  The purpose is to assist the University in achieving the appropriate role for diversity in its academic, cultural, social and professional environments through advising under-represented undergraduate and graduate students.  The office works closely with other programs and offices such as Upward Bound, The Center for Student Progress, Career Services, S.O.A.R., Student Financial Aid, Student Life, Admissions, Disability Services, College Academic Advising and Enrollment Services.
The office of Student Inclusion and Enrichment works collaboratively across the YSU campus to offer support and enhance programming and activities that build and nurture our campus and community within our broadly diverse population.  Inasmuch as our campus is increasingly becoming more multilingual, multiethnic, multicultural, multi-religious and multiracial, the office of Student Inclusion and Enrichment will be programming with various student organizations, offices, agencies to address the issues and special needs of these populations.
The key to success is to take advantage of the resources available on campus and in our community.  Our office offers programs and services that will help students succeed and achieve their ultimate potential.