RESCHEDULED: Sports nutritionist/author presents on campus Jan. 30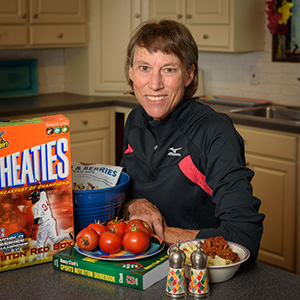 Note: Due to cancellation of classes on Wednesday, Jan. 30, this presentation is being rescheduled to a time and date yet to be determined.
Nancy Clark, an internationally-respected sports nutritionist, weight coach, nutrition author and workshop leader, visits Youngstown State University for a free public presentation 5 p.m. Wednesday, Jan. 30.

The talk in the Chestnut Room of Kilcawley Center is presented by the YSU Department of Kinesiology and Sport Science. 

Clark is a registered dietitian who specializes in nutrition for performance, health and the nutritional management of eating disorders. She is board certified as a specialist in sports dietetics and a certified WellCoach. In her private practice in Newton Highlands, Mass., Clark offers one-on-one nutrition consultations to both fitness exercisers and competitive athletes, coaching them on strategies to eat wisely, enhance energy, optimize performance, and manage weight.

She is a fellow of the Academy of Nutrition and Dietetics and a fellow in the American College of Sports Medicine. She is the recipient of the AND Media Excellence Award, ASCM's Honor Award and the American Society of Nutrition's Media Award for her nutrition science writing. Nancy's photo and advice appeared on the back of the Wheaties box for the 2004 Olympics.
Clark is the nutrition columnist for New England Runner, a frequent contributor to Rowing News, a columnist for The Athlete's Kitchen, and the author of the best-selling sports nutrition reference Nancy Clark's Sports Nutrition Guidebook. She also is the author of Food Guide for Marathoners: Tips for Everyday Champions, Food Guide for New Runners: Getting It Right from the Start, Cyclist's Food Guide: Fueling for the Distance, and Food Guide for Women's Soccer: Tips and Recipes from the Pros.
For more information, visit http://nancyclarkrd.com.