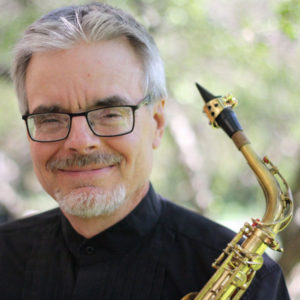 Dr. James Umble is Professor of Saxophone at Youngstown (Ohio) State University where he has been awarded a Distinguished Professor Award for Teaching. He is an internationally recognized teacher, soloist, clinician, chamber musician and author. Cleveland Plain Dealer Music Critic Donald Rosenberg wrote that Dr. Umble…" must be one of the most elegant exponents of his instrument…he was virtuosic in every way."
Dr. Umble has recently presented Guest Artist recitals and clinics at The Hartt School of Music, Oakland University, the University of Mississippi, and was recently guest featured clinician at the American Saxophone Institute at The University of Iowa. He regularly presents performances, clinics and lecture recitals at regional and national Conferences of the North American Saxophone Alliance. He also annually presents performances and lectures at the U.S Navy Band Saxophone Symposium where he will be a featured Guest Clinician in January 2020. He has been a featured soloist with the U.S. Navy Band in Washington D.C.
His many former students are in teaching positions and graduate programs around the country. Dr. Umble has a passion for teaching and for creating and incorporating innovative pedagogy in his teaching. He regularly presents some of his creative teaching ideas on tonal and artistic development in clinics around the country.
(He works closely with YSU jazz saxophone faculty artists Dr. Kent Engelhardt and longtime YSU/Aebersold Jazz Camp faculty saxophonist Dave Kana in teaching and advising students that have both classical and jazz interests. Such students often take advantage of studying privately with both Dr. Umble and one of the above 2 YSU jazz faculty artists as part of their degree program.)
Umble was a guest recitalist at the World Saxophone Congress in Strasbourg France, where he presented a recital along with pianist/composer Marilyn Shrude, performing her Lacrimosa for alto saxophone and piano.
Along with Dr. Andrew Mead of Indiana University (Bloomington) he has also been presenting recital/lectures on Dr. Mead's works for saxophone, several of which Dr. Umble has premiered.
Along with Dr. Andrew Mead of Indiana University (Bloomington) he has also been presenting recital/lectures on Dr. Mead's works for saxophone, several of which Dr. Umble has premiered.
His acclaimed book "Jean-Marie Londeix- Master of the Modern Saxophone" documents the life and pedagogy of one of the world's most celebrated French artist-teachers. The Second Edition is at the publisher now and should be released in early 2020.
For over 20 years Dr. Umble has performed around the world with his celebrated chamber trio, The Cleveland Duo and James Umble. They have commissioned and premiered many new works for their combination of violin, saxophone and piano, including works by Evan Chambers, Tim Brady, Jane Brockman and many more. New York Concert Reviews wrote that their Mannes College performance was "sensuous…. An outstanding performance…"
Dr. Umble has also been heard as saxophone guest artist in the Cleveland Orchestra woodwind section, performing and touring with them under the direction of such conductors as Pierre Boulez, David Zinman, Franz Welser-Most, JaJa Ling and many others. Speaking of his performance in Miami with the Cleveland Orchestra the Miami Herald wrote that his playing was "…glorious…" and of his "…mellifluous tone…"
He was featured Guest Artist and Clinician at the Medellin (Colombia) ClariSax Fest and at the Xi'an (China) Single Reed Conference. Umble holds a DMA from The University of Michigan where he studied with Donald Sinta, a First Prize from the National Conservatory of Bordeaux where he studied with Jean-Marie Londeix, a Masters degree in Performance from Bowling Green State University studying under John Sampen and a Bachelor's Degree in Music Education studying with Donald Beckie.
He has presented numerous recitals and clinics around the country including The University of Miami Frost School of Music, The Hartt School, Oakland University, George Mason University, The University of Potsdam, and many others.
Umble loves playing basketball and hiking in the Laurel Highlands of PA.
Dr. Umble is a Selmer Artist and performs on Légère reeds. For more information visit www.jamesumble.com.