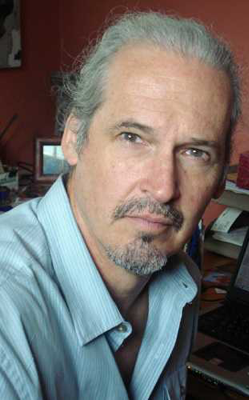 Ph.D., University of Delaware, 1988
Steven Reese's teaching and research interests include poetry and poetics, translation, creative writing (poetry), and 20th-Century British Literature. His poems, essays, and translations have appeared in The Journal, West Branch, Poetry Northwest, Atlanta Review, and a host of other magazines, as well as in three collections: Enough Light to Steer By (Cleveland State), American Dervish (Salmon), and Excentrica: Notes on the Text (BlazeVOX). He is the author as well of two volumes of translation, Synergos (Etruscan; poems of Roberto Manzano) and Womanlands (Verbum, Spain; poems of Diana María Ivizate González). Recent and forthcoming publications include poems in Riddled with Arrows and The Opiate, an essay on the influence of Percy Shelley on the work of the American poet Robinson Jeffers in Robinson Jeffers Studies, and a translation of an essay ("Poets and the Expressiveness of Language") by the Romanian writer Ștefan Doinaș in the magazine Confluențe (Romania).
At Youngstown State he teaches courses in poetry writing, poetics, British literature—especially modernism and contemporary poetry—surveys of British Literature, myth and literature, and the introduction to literary study, among other courses. In addition to teaching for the English Department at YSU he teaches in the Northeast Ohio MFA program (NEOMFA) in creative writing.