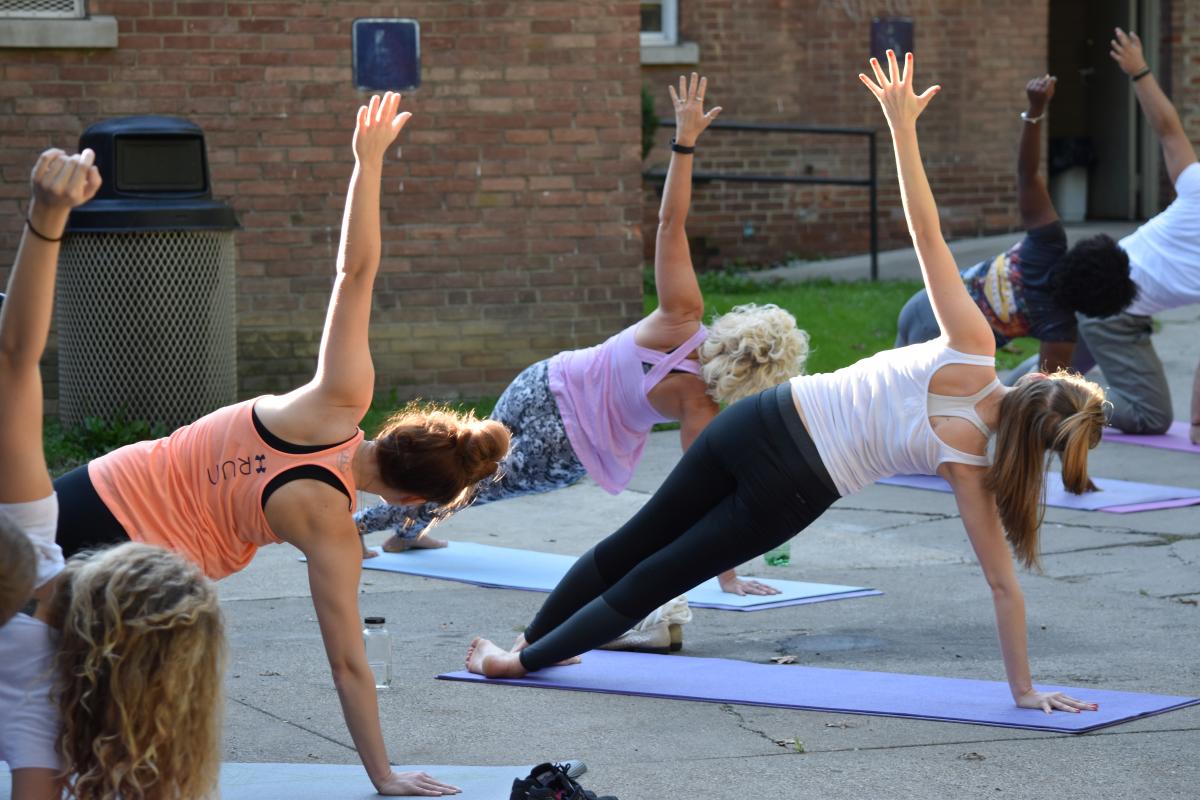 Youngstown State University is committed to the total well-being of its students. We promote wellness and foster a healthy campus environment so that all members of the University can be better positions for academic, personal and professional success.
The following departments are recognized for their services that address the health and wellness needs of YSU students.
The Department of Campus Recreation provides creative and innovative instructed or self-led wellness and recreational programming to meet the diverse needs of students and the YSU community. The Rec Center offers Adventure Rec programs, Aquatics, Group X classes, and Fitness assessments while also offering personalized services through certified Personal Trainers. Campus Recreation also features a vast Strength and Conditioning area, racquetball courts, basketball courts, and a 53 foot Rock Wall.
Phone: 330-941-3488
---
2.) Student Counseling Services
The goal of counseling is to help clients achieve desired changes in their lives.  In Individual Counseling, this is achieved by face to face meetings, one on one with a therapist.  You and your therapist will first meet and talk about what you are currently experiencing (and have experienced in your past); what you want to change; how willing you are to make those changes;  and how  you can make and sustain your desired changes.  You and your therapist will set up goals in a collaborative process.  You may meet with your therapist weekly or more sporadically depending on your goals and progress.  Our services are free, problem focused, and confidential.
Phone: 330-941-3737
---
3.) Career & Counseling Services
The Career and Counseling Services office offers a variety of programs and services to all YSU students and alumni. The staff is here to help you with your overall career planning.  You are able to schedule an individual appointment with one of the coordinators or you may stop in during walk-in hours. Services offered include creation of a resume and cover letter, interview preparation, and graduate school preparation.
Phone: 330-941-3515
---
4.) Counseling Graduate Program
The mission of the Department of Counseling, Special Education, and School Psychology is to develop professional counselors, intervention specialists, school psychologists, and related helping professionals. We seek to produce graduates who are sensitive to the impacts of human development, culture, and context upon students and consumers of education and counseling services. The faculty and students within the Department of Counseling, Special Education, & School Psychology are committed to academic success, excellence, and engagement.  The department has a consistent record of accomplishments in relation to the mission and goals of YSU, assessment activities/results, research and scholarly activity by faculty and students, examples of student success and academic excellence, and community engagement activities. 
Phone: 330-941-3257
---
5.) Human Ecology
The Department of Human Ecology's goal is to enhance the human condition through education, service, and research, related to basic human needs for food, clothing, and shelter, and the well-being of children, families, consumers, and communities. Every program in the Department of Human Ecology contains a professional practice or fieldwork component in at least one term which gives our students an "edge" in the job market when they graduate. We have partnerships with more than 100 facilities, organizations, and businesses that give our students opportunities to network and explore the job market long before graduation.
Phone: 330-941-3344
---
6.) Mercy Health Wick Primary Care
The Student Health Clinic on campus is open to all YSU students and has registered nurses available 8am-4pm Monday through Friday. Physicians are available by appointment for students only, although routine health services are offered to faculty and staff as well. The Student Health Clinic is located on the first floor of Kilcawley House and can be entered off of University Plaza.
Phone: 330-941-3489
---
The following services are provided free of charge by dental hygiene students under the supervision of a licensed dentist and a dental hygiene instructor: Oral Examinations, scaling and polishing teeth, fluoride applications, study models, sealants, local anesthesia, and radiographic surveys. Appointments in the Dental Hygiene Clinic take longer than those in a private office and frequently more than one appointment is needed. All patients under 18 years of age must be accompanied by a legal guardian for their appointments. The Dental Hygiene Clinic should not be used as a substitute for comprehensive dental care provided by a private practice dentist.
Phone: 330-941-3342
---
8.) Kilcawley Center
Kilcawley Center is known as the heart of campus to nearly 14,000 students and 2,100 employees. This not only refers to its central location, but to the many services, conveniences, programs, and amenities it provides to the university community. The Center includes study lounges, computer labs, a bookstore, banking and copy services, diverse choices in dining, sixteen seminar rooms, and two computer training rooms. Over 5,000 events were held in the Kilcawley Center last year with 180,000 in attendance. Our conference service facilities and renowned customer service attract local, regional, and state events. As an urban campus with easy access to parking, Kilcawley Center hosts community events and many visitors daily. A student rec center, as well as a residence hall; provides auxiliary wings to the building.
Phone: 330-941-3571
---
9.) Center for Student Progress
The CSP facilitates the success of all YSU students through cultivating the skills of new students, expanding the skills of developing students, and enhancing the skills of exceptional students. Orientation, first-year services, adult learner, multicultural, student tutorial, and supplemental instruction are just a few of the programs offered by the Center for Student Progress. Through active intervention in the lives of students, the Center for Student Progress strives to help students successfully complete their university experience.
Phone: 330-941-3538
---
10.) The Newman Center
Home of the Catholic Student Association, The Newman Center provides Catholic campus ministry with and for the students, faculty, and staff of Youngstown State University. The Newman Center offers spiritual, service, social and leadership opportunities for you to grow in faith. While the club has been housed in several locations, served by many chaplains and campus ministers, and engaged countless students throughout the years, one thing has remained constant: it has continued to be a place for students, faculty and staff to become engaged and empowered by their faith.
Phone: 330-747-9202
---
11.) Student Outreach and Support
The role is to assist YSU students in becoming a successful student and, eventually, a proud YSU graduate. Unfortunately, the road to graduation can have many twists and turns and, occasionally, a few roadblocks. Physical and mental issues, family responsibilities, work, extracurricular activities, and unexpected expenses are simply a part of life. While it can be easy to become overwhelmed and discouraged, it is her goal to assist you in getting through these tough times.She is here to listen, offer advice on how to handle a situation, or assist with attainment of campus and community resources when necessary. Whatever the challenge, she is here to help.
Phone: 330-941-4721
---
12.) Wee Care Daycare
Wee Care Day Care and Learning Centre is the official day care/preschool provider for all YSU affiliates and Mercy Health facilities. We also provide all before and after school care for the Austintown Local Board of Education. This partnership in care provides special discounts and rates for associates of these local employers.
Phone: 330-941-2936