At YSU, our mission emphasizes a creative, integrated approach to education, scholarship and service. It's the core of everything that we as Penguins do in the classroom, on campus, in the community and beyond. But what does this really mean, and how does it apply to how we function as a campus community year after year?
Below, we have identified 10 key and overarching words/themes in the YSU Mission Statement. Click on those words to link to real life stories that show our accomplishments in that particular area. These stories reflect who we are and where we're going as a university. We hope they help all Penguins to better understand and more actively carry out our mission.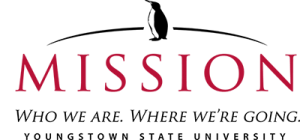 YSU Mission Statement

Youngstown State University—an urban research university—emphasizes a creative, integrated approach to education, scholarship, and service. The University places students at its center; leads in the discovery, dissemination, and application of knowledge; advances civic, scientific, and technological development; and fosters collaboration to enrich the region and the world.

The University:
Creates diverse educational experiences that develop ethical, intellectually curious students who are invested in their communities;
Provides access to a broad range of undergraduate programs;
Offers graduate programs in selected areas of excellence, including those that meet the needs of the region;
Supports economic development through applied learning and research;
Integrates teaching and learning, scholarship, and civic engagement;
Fosters understanding of diversity, sustainability, and global perspectives; and
Advances the intellectual and cultural life of the city, region, and world.